<![if !vml]>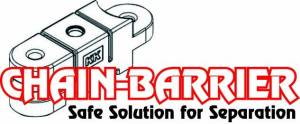 <![endif]>
This revolutionary new CHAIN-BARRIER© safety system has been specially developed with years
of experience of indoor and outdoor kart and race tracks all over the world. This new product is also
applicable to various kinds of separations like Race and Rally Tracks, In- and Outdoor karting, Supermarkets,
Zoo's, Childrens playgardens, Parking places etc.
This new High Quality CHAIN-BARRIER© module has been tested at – 20°C and over + 45°C without loss
of quality and colour, thanks to the use of virgin Thermoplast Polyethene material.
This unique new CHAIN-BARRIER© safety system gives you the chance to upgrade your track or place to the
highest level of protection or separation and the guarantee of durability for many years.
Features :
<![if !supportLists]>· <![endif]>Weight 12 kg., various RAL colours possible
<![if !supportLists]>· <![endif]>5 years guarantee on colour / 5 years on cracking
<![if !supportLists]>· <![endif]>Rotation moulded, Virgin Thermoplast Polyetheen material, 100% recyclable, UV stabilized
<![if !supportLists]>· <![endif]>High impact crash absorption, no splitting-up by impacts due to unique Chain connection construction
<![if !supportLists]>· <![endif]>Easy to move with forklift, filling with sand, water or grind possible
<![if !supportLists]>· <![endif]>Simple and quick assembling, possibility for multiple layers
<![if !supportLists]>· <![endif]>Always strait lines on outdoor foundation, due to chain construction
<![if !supportLists]>· <![endif]>Usable at temperatures below – 20°C and above + 45°C
<![if !supportLists]>· <![endif]>Connection PE tubes available in different lengths (50-100-150cm.)
<![if !supportLists]>· <![endif]>Your own logo printed in the product possible
<![if !supportLists]>· <![endif]>We can also arrange cheap transport by container all over the world
<![if !supportLists]>· <![endif]>For more information or price list please send e-mail to : info@chain-barrier.com
<![if !vml]>

<![endif]><![if !vml]>

<![endif]><![if !mso]>

<![endif]> <![if !mso]>

<![endif]><![if !mso & !vml]> <![endif]><![if !vml]>

<![endif]><![if !vml]>
<![endif]><![if !vml]>

<![endif]><![if !vml]>

<![endif]><![if !vml]>

<![endif]><![if !vml]>

<![endif]><![if !vml]>

<![endif]><![if !vml]>
<![endif]><![if !vml]>

<![endif]><![if !vml]>

<![endif]><![if !vml]>

<![endif]>E.mod. nr. : 000444625 CHAIN-BARRIER - © 2005 Kombikart racing parts bv